Neřešíte návrh interiéru či zahrady, ale zajímají vás pouze dílčí dotazy? Máte již vybrané materiály či nábytek, ale nevíte, jak vše sladit? Chcete pomoc vybrat doplňky nebo sezónní dekorace? Pak je zde pro vás služba Poradenství a redesign.
Konzultace
CENA: 1200 Kč / hodinu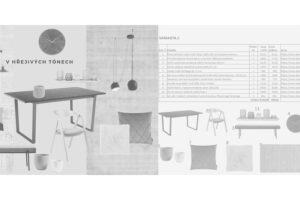 V podobě konzultačních schůzek vám odpovím na vaše dotazy a pomohu najít optimální řešení vašeho projektu. Poradím vám s výběrem barev a materiálů a jejich kombinací. Pomohu vám vybrat konkrétní kusy nábytku či dekorace. To vše lze realizovat jak v novém, tak stávajícím interiéru či zahradě.
Rovněž pro vás mohu připravit nákupní seznam konkrétních prvků se zdroji, kde nakoupit a to s ohledem na váš rozpočet. Společně můžeme také navštívit showroomy, kde vám poradím s výběrem. Ačkoli vás raději poznám naživo, mohu pro vás zpracovat vše online při poskytnutí potřebných materiálů (fotky prostoru, zaměření).
Součástí této služby jsou inspirativní obrázky, vysvětlující texty či skici.
Zpoplatněna je již první konzultace.